Cabin Fever's feel good event is back again, with the aim of giving back to those who need it most in the local Margs community. Souped Up Soupie is our treasured special charity event full of wholesome good food and good times. The Soup Kitchen is a place where meals are prepared twice weekly for those in need, prepared by the incredible and tireless volunteers at the Margaret River Soup Kitchen. On Monday and Wednesday nights every week of the year, those in the community can turn up and receive a hearty, nutritious vegan meal by donation. During Cabin Fever Festival, special guest chef Tony Howell will be there to put his own spin on the night, with additional offerings and we encourage the community to dig deep to support this crucial community service.
Join us around the fire for a hearty meal, with all proceeds from the night going to enhancing the Soup Kitchen's facilities, ensuring their crew can keep making low-cost meals for people who need them the most in the South West.
Last year's 'souped up' soupie meals from Tony included house-baked sourdough with truffle butter and lamb ragu ands sage buttered gnocchi, in addition to five delicious vegan meals provided by The Soupie volunteers. We imagine this year's meals will be just as delicious.
Getting into the spirit will be number of talented local potters who are donating their handcrafted bowls that'll leave you feeling warm in your tummy and your heart.
Guests have the option of purchasing a handcrafted bowl to enjoy their meal from, which they can take home afterwards. But be prepared, as these were snapped up quick smart last year. We recommend pre-purchasing your bowl + meal ticket online in advance to avoid missing out.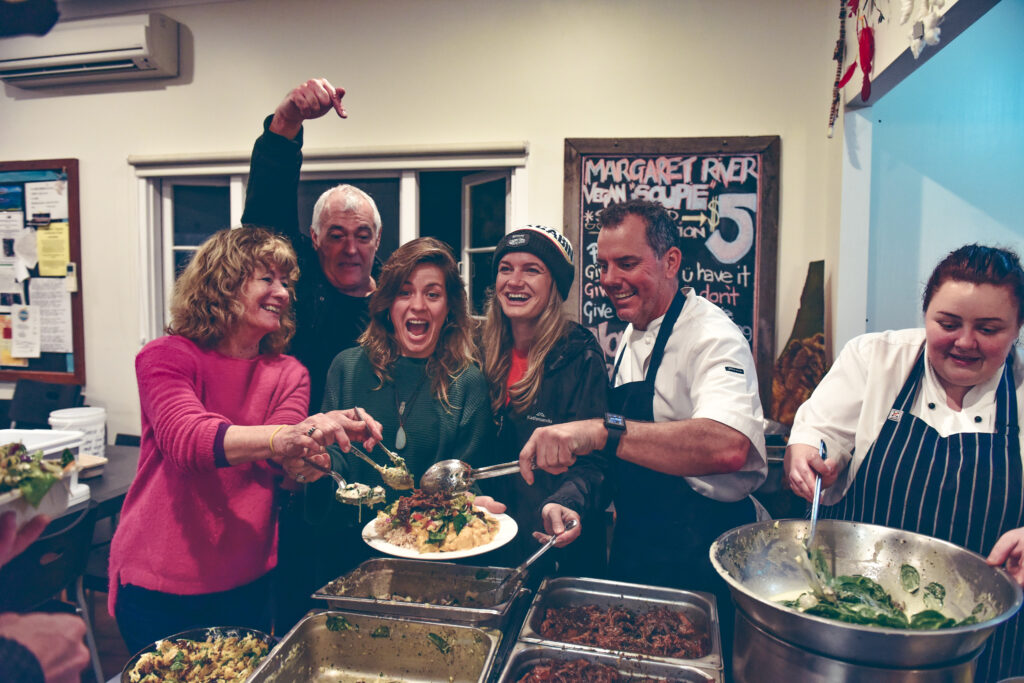 The talented local potters joining in on the community spirit:
Stuart McKay, Pieces From Eight, Margaret River
Creating peices from his home right in the heart of town.
Instagram: @piecesfromeight Facebook: Pieces From Eight
Matt Griffiths, Cowaramup.
As a supplier for WA stockists, Matt's craftsmanship can be found on Pottery for the Planet.
Instagram: @mattgriffiths76ceramics
Tova Hoffman, Dilkes Hoffman Ceramics, Margaret River.
Tova's work is inspired by the beautiful environment that surrounds her studio.
Facebook: Dilkes-Hoffman Studio Ceramics Website: www.dilkes-hoffman.com.au
Bill Meiklejohn, Willyabrup Dreaming Pottery, WIllyabrup.
Unique, ocean inspired, hand made ceramics.
Instagram: @willyabrupdreamingpottery Facebook: Willyabrup Dreaming
Jolene Hewison, River Ceramics, Margaret River
Inspired by nature, Jolene draws from the region to showcase fractal patterns, abstract designs and literal illustrations.
Instagram: river.ceramics Facebook: River Ceramics Website: www.riverceramics.net
Simon James, Gracetown.
Unique chance to own some art from one of the Region's most well known artists.
No Retail.
Caroline Bannister, Margaret River.
Caroline's work is inspired by her love of trees and the variety of colours, shapes and textures they offer.
Instagram: @carobannisterart Facebook: The Hive, Margaret River Art Collective Inc.
Ian Dowling, Margaret River.
Ian's work is inspired by his intrigue with Form and Surface, particularly searching for things that give a closer connection Wardandi Boodja.
Instagram: iandowlingceramicart Website: www.iandowling.com.au
Get involved and pre-order your meal for the set donation price of $20 or, just turn up on the night for a feed. Otherwise, pre-order your meal + bowl from one of the amazing potters listed above for $60.