When the South West's best come together, you know you're in for a treat. This year at Cabin Fever, we've got a record number of local businesses joining forces to deliver blockbuster events. Double dip this Cabin Fever with our slew of epic collabs heating up the South West.
Bites, Beats & Liquid Treats
What happens when you mix Margaret River fan favourite chefs and winemakers? You get a night of juicy bites, bouncing beats, and sensational liquid treats. Head to Tuck Shop for a delicious array of canapé-style plates from the team as you sip on the nectar of the gods, courtesy of LS Merchants. Your night's beats covered by DJ Kachina.
Fast Food Fancy
The authority in burgers Normal Van's Rob Webster has teamed up with Margs favourite Chef Brendan Pratt of Coffee Heads (ex Vasse Felix) to take all the good stuff you know and love to a whole new level at Normal Van's newly opened main street digs. The duo will be teaming up with Trait Wines and Jingalup Wines to add the finishing fancy touches. A collab not to be missed!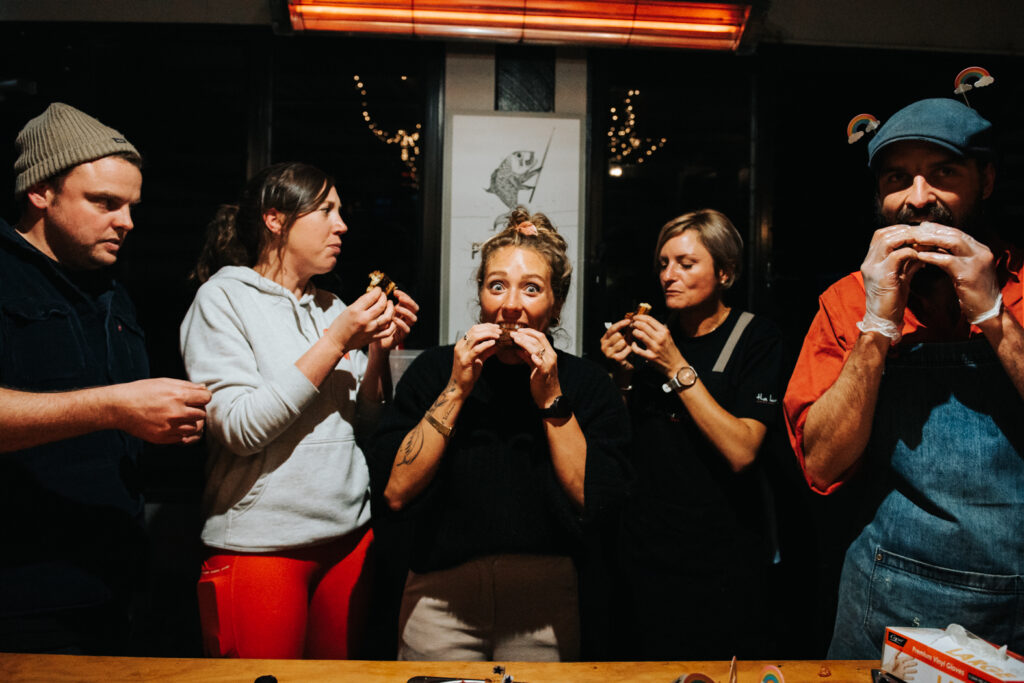 Disco Juice
For one night only, CBCo bring back disco for unveiling the CBCo Brewing x South by South West Collab beer, Dark Side of Disco. Everyone's favourite party starters, Bunnyjuice and friends, will have you moving and shaking like you're at Studio 54 for a night where sequins and flares are encouraged.
Pie Meets Wine
Join Fermoy Estate and Boranup Pies & Ale for a deliciously wholesome afternoon featuring a winter pie and cabernet feast in the Boranup Forest. Pies & Ale will be taking their award-winning delectable pies, to the next level with a divine Fermoy cabernet sauvignon Jus. This South West winter staple will be paired with a flight of unreleased Fermoy Reserve Cabernet Sauvignon.
Grape & Grain
Join Swings and Roundabouts as they pair up with Rocky Ridge to unveil their new collab winter beer. This unexpected duo has been busy concocting 'Cask Away' – a Cabernet Porter that has been on oak since vintage and is being specially released for Cabin Fever. Learn the process behind the exciting collab and ask your burning questions with a Q+A panel with the Swings Winemaker Jodie Barton and Rocky Ridge Head Brewer, Ross Terlick. Linger a little longer with live music at Swings' cosy Margaret River main street hangout.
Gettin Jibba's With It
Collab number two for Rocky Ridge. This time, they've teamed up with Jibba's Hot Sauce founder Alex Gibson and invite you to feel the burn over five sizzling courses of Asian-infused dishes. Each course matched to an ice-cold beer or cocktail to complement the dish with entertainment for the evening by the sensational Nathan Parsons.
Black Truffle Dinner
Join McHenry Hohnen winemaker Jacapo "Japo" Dalli Cani for a sumptuous pairing of great wines alongside new season black truffles from Seven Days Farm in Manjimup. Your evening kicks off with truffled antipasti, followed by a lavish, four-course Italian feast prepared by Chef Ferdinando Fucci of Napoli, and Chef Andrea Costantini of Genova. All are paired with Japo's specially selected McHenry Hohnen wines, and Barbaresco from Piedmont Italy.